Coin98 Super App
Coin98 Wallet marks the dawn of NFTs arrival and its new Blockchain horizon in the latest version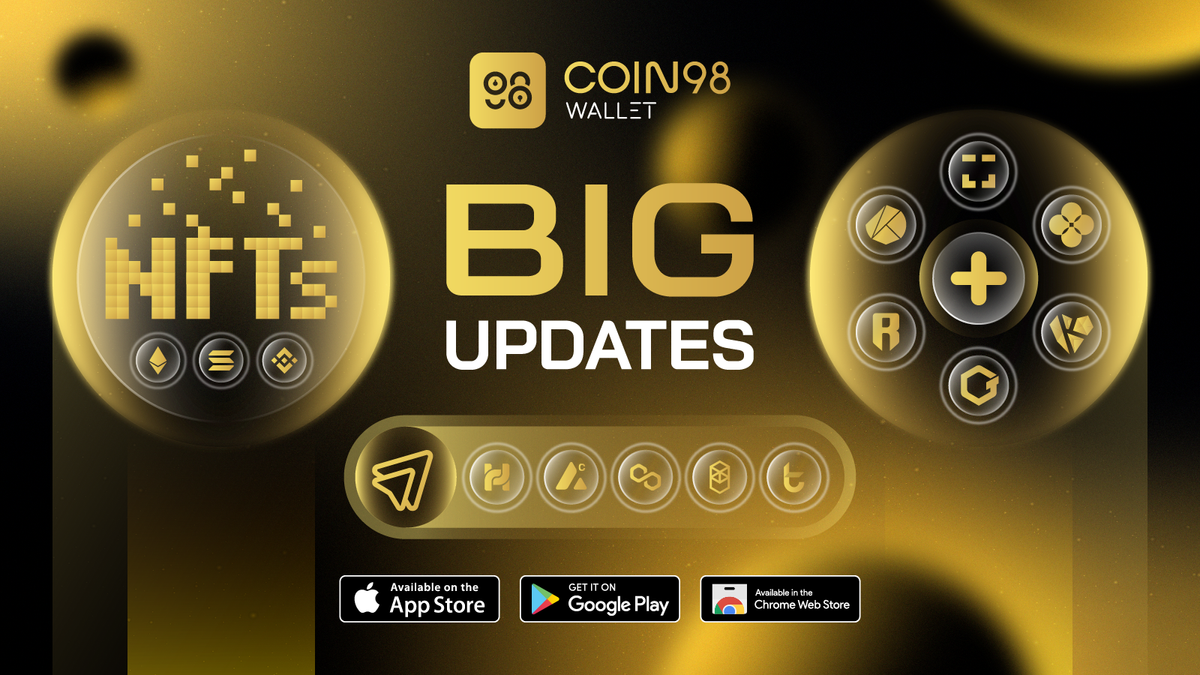 The boom in NFTs and the Gaming Industry has amplified DeFi to the mass adoption around the globe. Following this blasting combination, Coin98 Wallet has rolled out the new version with NFTs support, new blockchains, and numerous features to provide users with a one-of-a-kind DeFi experience and open a door for users to enter the NFTs sector with ease.
Welcome newcomers to Coin98 Wallet - The ultimate Multi-chain DeFi NFT Wallet!
Quick Takeaway
Coin98 Mobile Wallet V10.2.0
Support NFTs on Ethereum, Binance Smart Chain, and Solana. Starting with 8 torrid projects is Axie Infinity, My Defi Pet, Faraland, CryptoBlades, Sipher, Soltopia, Bold Badgers Squad, Sollamas NFT.
Integrate new Blockchains and support DApps on OKExChain, GateChain, xDAI Chain, Ronin, Klaytn, KardiaChain, and a wide variety of EVM Blockchains.
Allow adding Custom Networks.
Release Terminal - A powerful DeFi toolbox with Solana Wallet Migration, Multi-sender, unwrapping wSOL, Wallet Approval, in-app Blockchain Explorers,...
Enhanced user experience.
Coin98 Extension Wallet V5.5.0
Integrate new 3 Blockchains: OKExChain, GateChain, Klaytn.
Allow accessing DApps on OKExChain, GateChain, xDAI Chain, Klaytn, KardiaChain.
Broaden Multi-send network with a total of 8 supported Blockchains, including Ethereum, Binance Smart Chain, Polygon, TomoChainm Fantom, Avalanche C-Chain, HECO Chain.
Improved user experience.
The system hasn't automatically updated yet? You can handle it easily by yourself now!
Mobile App
Extension
Go to chrome://extensions/ in your browser
Click the "Developer Mode" button on the right side of the header, and "Update" to enjoy!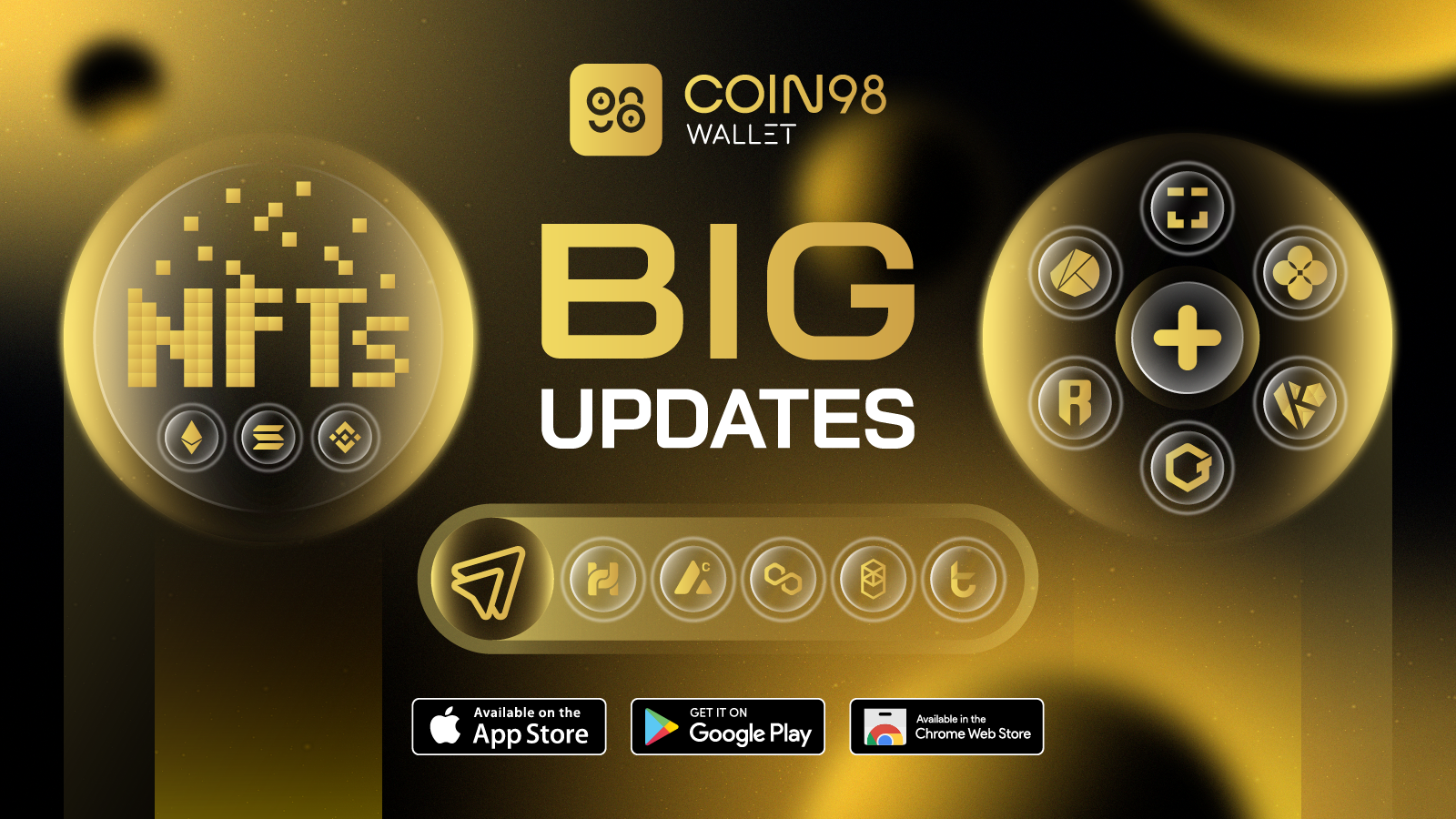 Support NFTs on Ethereum, BSC, and Solana
NFTs and the Gaming industry are the couples creating a breakthrough during 2021, which has initiated the Play-to-Earn trend. Coin98 Mobile Wallet wants to put the power in the hands of users in storing, tracking, and transferring the ownership of NFTs on the top-tier platforms on the Ethereum, Binance Smart Chain, and Solana Blockchain such as Axie Infinity, My Defi Pet, Faraland, CryptoBlades, Sipher, Soltopia, Bold Badgers Squad, Sollamas NFT. More is definitely coming soon.
Plus, Coin98 Mobile Wallet is designed to bring users convenience to send, receive and manage all their NFTs in one neat place with the classy showcase. What is more, we aim to become one of the leading NFT marketplaces. The first step of this journey is to make NFTs interchangeable anytime and anywhere in the market, where users can buy and sell those kinds of NFTs through DApp Browser natively on Coin98 Wallet.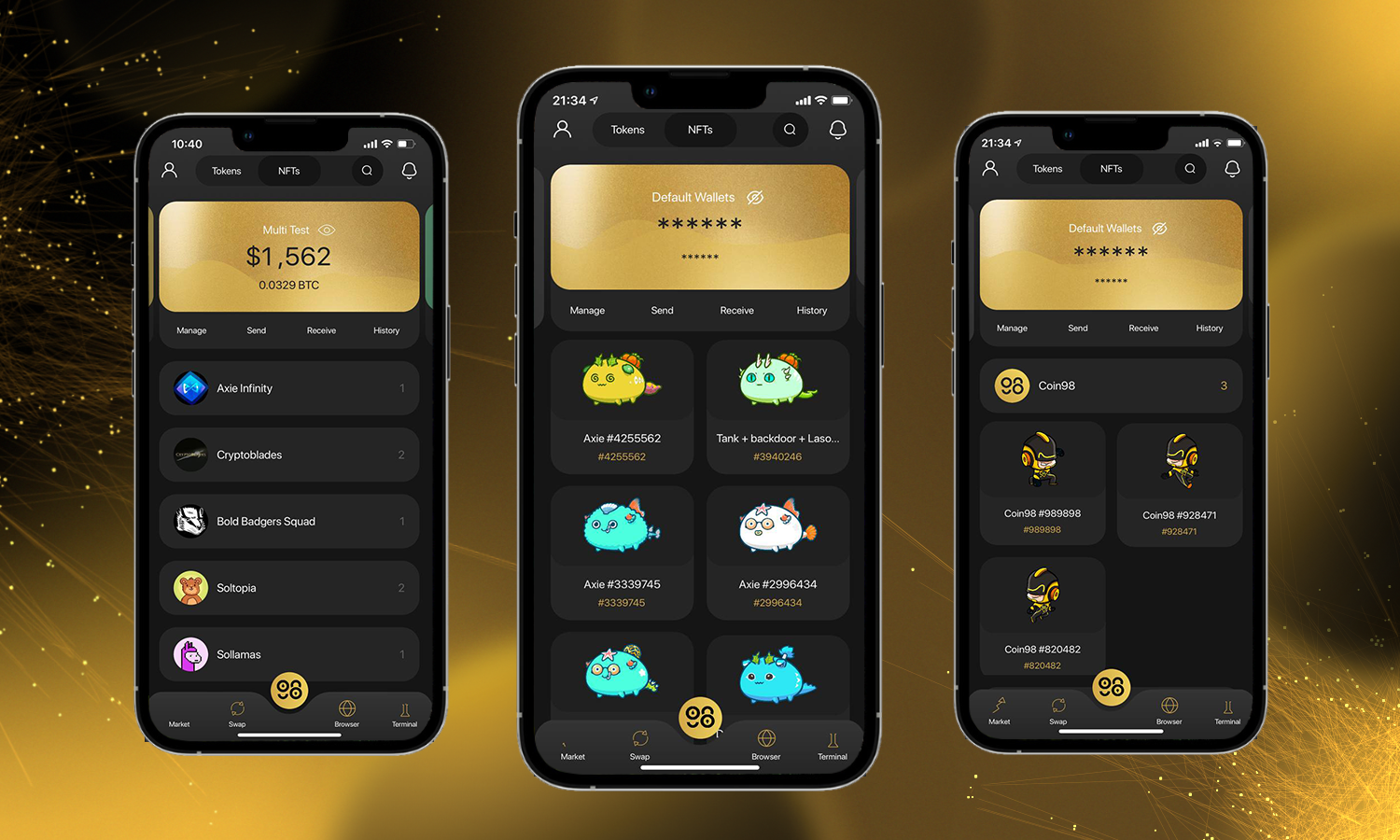 Integrate 6 New Blockchains
Blockchain integration is one of our top priorities for the sake of supporting users to store their assets safely on a variety of blockchains by one single Passphrase. Starting from this update, Coin98 Wallet has expanded its horizon to include new blockchains, namely OKExChain, GateChain, xDAI Chain, Ronin, Klaytn, KardiaChain on both the Mobile App and Extension.
Both xDai Chain and OKExChain are EVM compatible Blockchains with Ethereum Blockchain. These scaling solutions support handling and deploying transactions on the network with high speed and low gas fees.
GateChain is a next-generation public blockchain focused on on-chain asset safety and decentralized trading;
Klaytn is an enterprise-grade, service-centric platform that brings a user-friendly blockchain experience to millions. It combines the best features of both public blockchains (decentralized data & control, distributed governance) and private blockchains (low latency, high scalability) via an efficient 'hybrid' design.
KardiaChain describes itself as a First Decentralized Interoperable and Self-Optimised Blockchain Infrastructure, aiming to solve the fragmentation of the blockchain ecosystems.
Ronin is an Ethereum sidechain, which focuses on the customization and expansion of the NFTs gaming sector. Users can take advantage of fast & seamless transactions with almost instant confirmation while accessing the transparent data on the block explorer.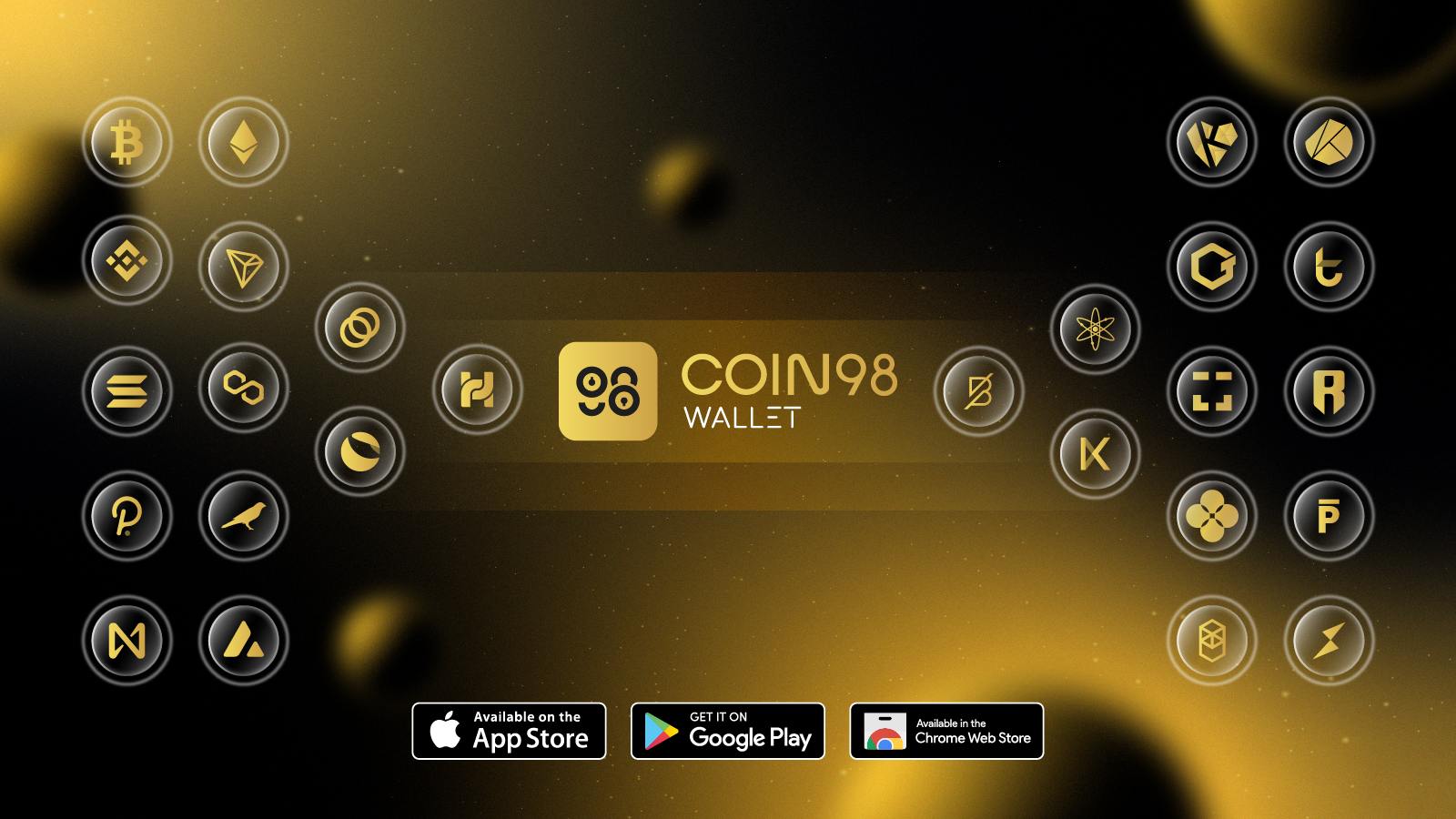 Through the integration, cross-chain bridges will be our next stop to fulfill the untapped demand in the market. More unprecedented things will come later.
Add custom networks
Although Ethereum is the derivation of many hot trends from DeFi to NFTs, Gaming, it is getting stuck in the expensive fee and transaction speed, which leads to many scaling alternatives such as Layer2 or EVM- based blockchains. We recommend the option of adding custom Blockchains to advanced users who can configure the EVM-based networks to keep up with the latest trends.
This feature is now live on the Mobile App and soon be available on the Coin98 Extension Wallet.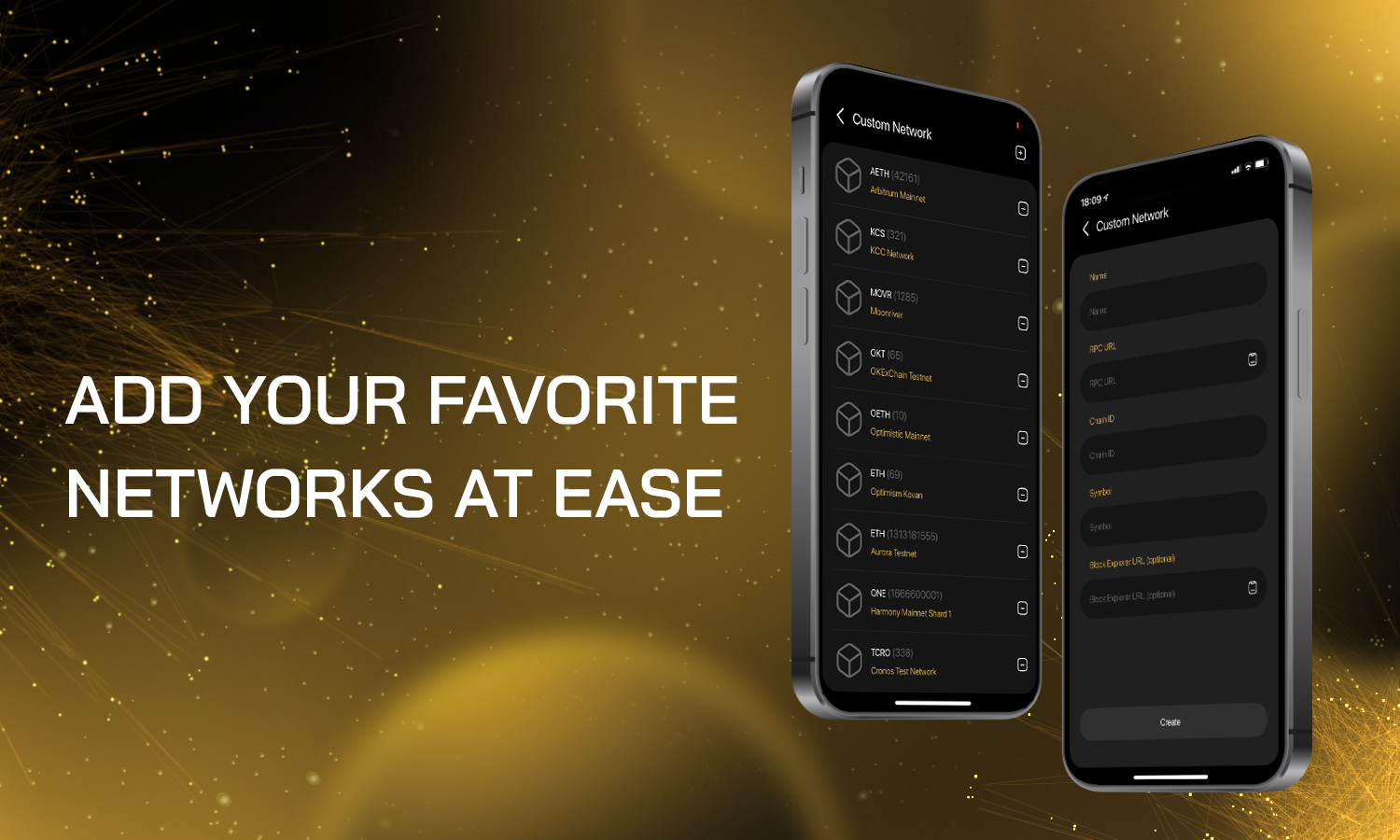 Widen access to DeFi wonderland
Coin98 Wallet has brought the number of supported Blockchains on the Web3 Browser to 11, including OKExChain, GateChain, xDAI Chain, Klaytn, KardiaChain, BSC, Ethereum, Fantom, TomoChain, Avalanche (C-Chain), Polygon. Users can now enjoy a wide range of DApps relating to staking, yield farming, trading, or joining IDOs. On top of that, we are eager to contribute to the accessibility and mass adoption of DeFi to the community worldwide.
There is so much more in version 10.2, where users can interact with DApps built on a plethora of EVM Blockchains. Interestingly, you can scan any DApps by WalletConnect, then enjoy full-featured services offered by this platform. Want Arbitrum, Optimism, or even any EVM Blockchains? We get you covered!
All powerful DeFi tools on one-stop Mobile App
A notable suite of DeFi facilities has been inspired for the simplicity and utility of users.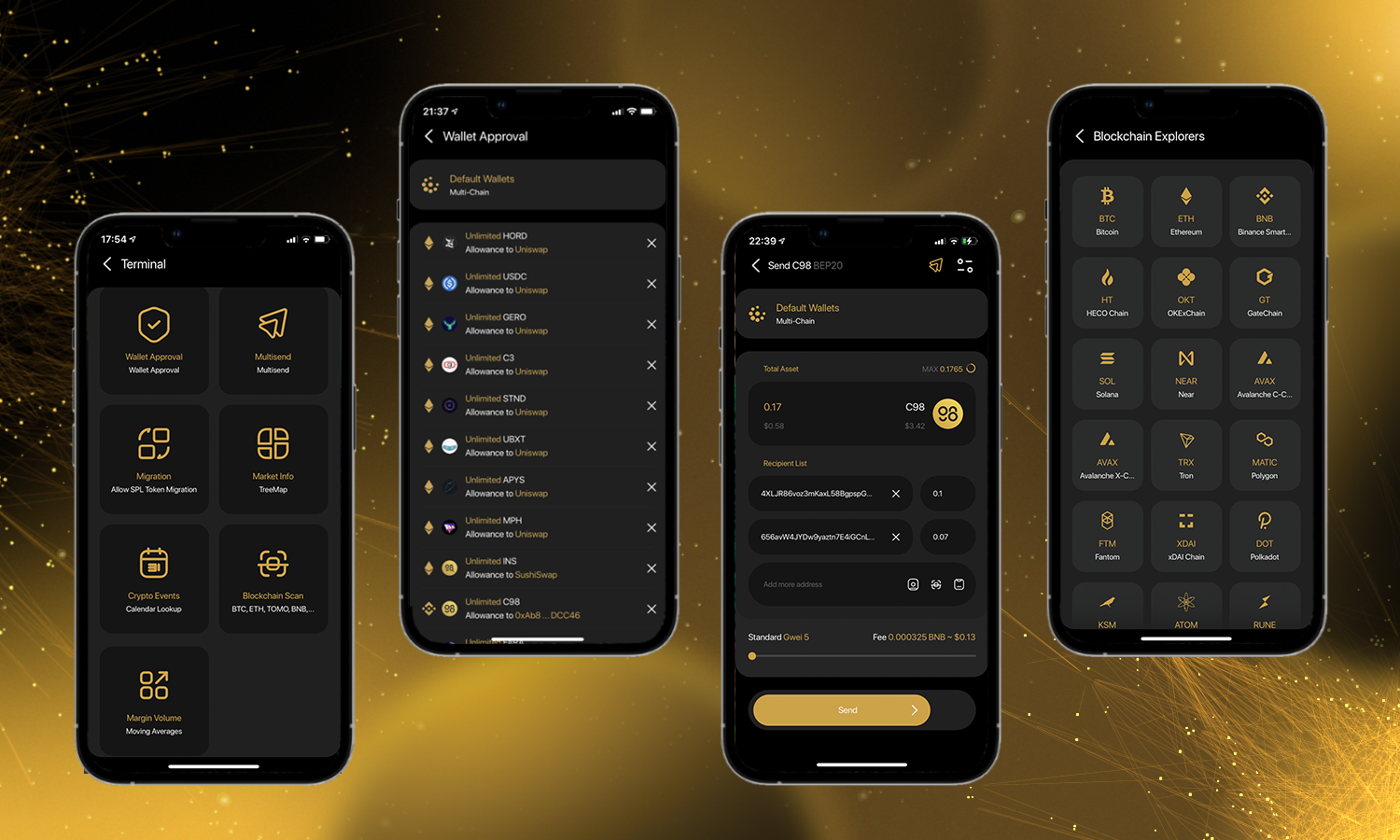 Wallet Approval
In order to trade, farm, stake, or interact with any dApps, users are required to allow smart contracts to access your assets. There are 2 approaches to allowance: Allow for a specific amount of tokens and unlimited approval.
Despite a fast and frictionless experience, unlimited approval potentially affects the risk of loss for untrustworthy platforms.
Coin98 Wallet V10.2.0 has just added the Wallet Approval. This feature allows users to check the connection history, revoke permissions from dApps on all supported Blockchains whereas protects them from potential risks.
Solana Wallet Migration
We updated the new Solana standard in the previous version, ushering users to send SPL tokens easily to one single Solana address. Coin98 Wallet V10.2.0 is continuously boosting the feature relating to Solana wallet, which is the SPL tokens migration.
Unlike other Blockchains, SOL addresses and SPL addresses are totally different, making it hard for users to utilize. If users send SPL tokens to SOL addresses, the network will automatically initiate another SPL address instead of navigating to the existing Wallet. That is the main reason why assets are divided into minor parts in many single SPL addresses.
Coin98 Wallet comes up with Solana Wallet Migration, an optimal solution for assembling all fragmented assets in many wallets and migrating them into one SPL wallet address after the confirmation.
Support unwrapping wSOL
Another highlight is unwrapping wSOL tokens, available on the latest version of  Mobile App and Extension.
In circumstances where you take Wrapped SOL tokens unintentionally from a DApp on Solana, you can unwrap this amount of tokens back to SOL just by a click. Is that feature you are seeking to solve your current complication?
Multi-send feature
As you have ever had a playful experience in multi-sending on the Coin98 Extension Wallet, we want to make users satisfied with more Blockchains beyond their expectations. In concert with the multi send on Ethereum (ETH & ERC20), BSC (BNB & BEP20), Solana (SOL & SPL), the new wave of blockchains welcome are HECO Chain, Avalanche C-Chain, Polygon, Fantom, TomoChain.
We also spot an opportunity for users to enjoy the vast convenience of the multi-send feature when it comes to the first appearance in the Mobile App. This tool helps you send tokens to multiple addresses simultaneously, saving a lot of time, effort, and transaction fees. There is no limitation of recipient addresses for BSC, Ethereum, and others, while you can send tokens up to 20 addresses with SOL and SPL tokens.
In-app Blockchain Explorers to check on-chain data
Blockchain explorer provides you with many fruitful functionalities, even seasoned crypto enthusiasts or novices. It facilitates you to search for several pieces of information related to the balance of any wallet address, transaction status, history tracking, fund root, etc. You worry whether your fund has been sent, your trade has deployed or not, this tool is here to help you!
Coin98 Wallet has added the built-in Blockchain Explorers with 28 Blockchains. That grants users easy access to explore the desired data transparently and natively without leaving the App to seek which suitable Block explorer should be used in your case. Start checking your on-chain transactions by clicking on the Terminal now!
Enhance users experience
Besides the significant updates on both the Mobile App and Extension, Coin98 Wallet has also added many more functions for better performance and inclusive experience with a faster connection to different trading platforms in one place as below:
Strengthened Search Engine: seek market information, swapping suggestions, and storage navigation.
Supported re-importing Multi-chain Wallet - The new Blockchain wallets will be automatically updated according to the version update
Upgraded the account registration for higher security: registration confirmation via a link and add-on captcha verification.
Used a fixed Avalanche X-Chain Wallet and Bitcoin Wallet Bech32 with one address only.
Allow using the same public key among Ethereum, Avalanche (C-Chain), Celo TomoChain Wallet.
Entered most DApps in the crypto market; even Coin98 Extension Wallet hasn't yet been supported.
After the culmination of hard-working weeks, the latest update with full of great features is finally here. Upgrade your App and see for yourself!
Download
About Coin98 Wallet
Coin98 Wallet is a non-custodial wallet used to store, manage, trade, swap multi-chain, multi-source digital assets and NFTs. It supports the most popular chains, including BTC, ETH, TOMO, Tron, Binance Smart Chain, Solana, Polkadot, Kusama, Huobi ECO Chain, Near, Avalanche, Binance Chain, Celo, Band, Kava, Cosmos, THORChain, Fantom, Polygon, Terra, Persistence, Klaytn, OKExChain, GateChain. Coin98 Wallet has both the Mobile App and the Extension version that act as a gateway, connecting users to the DeFi world.
Follow us
Join our communities