Coin98 Exchange
Coin98 Labs Raises $1.25M In Seed Funding Round Led by ParaFi Capital, Multicoin Capital, Hashed & Spartan Group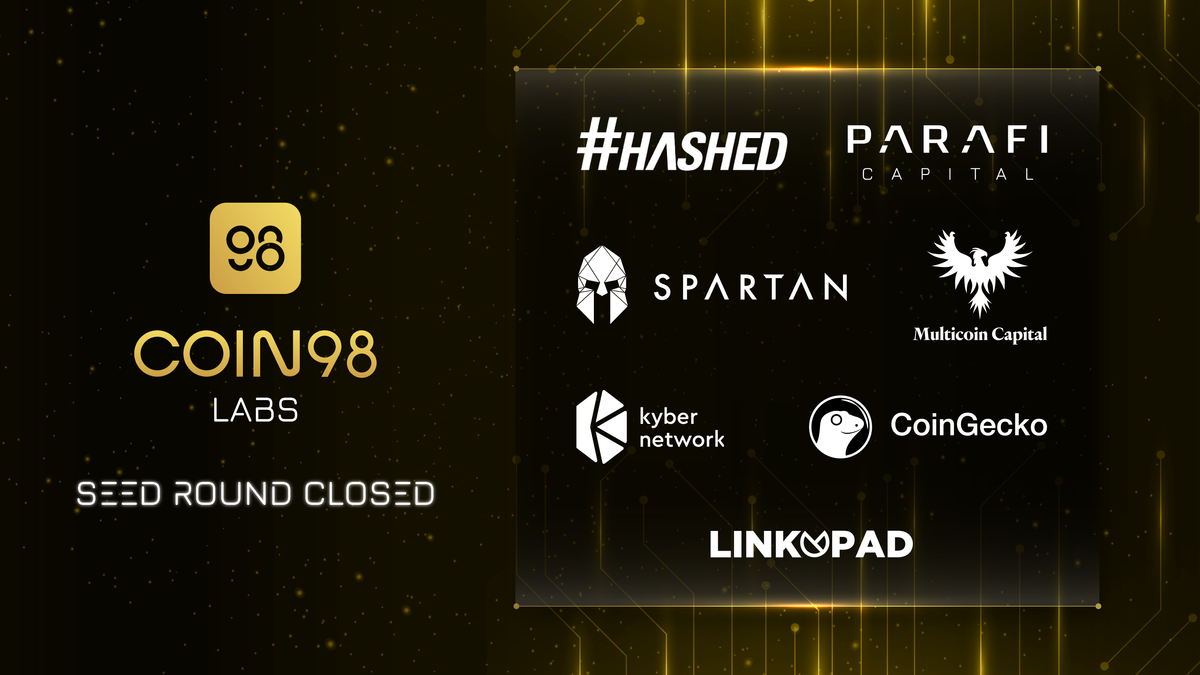 Ho Chi Minh City – April 13, 2021 – Coin98 Labs, a DeFi product builder focusing on creating and developing an ecosystem of DeFi protocols and applications on multiple blockchains, announced the completion of a $1.25M seed round led by ParaFi Capital, Multicoin Capital, Hashed and Spartan Group for its second product, Coin98 Exchange.
The round includes the participation of prominent venture capital firms and teams across the blockchain industry, namely CoinGecko, Kyber Network, Linkpad VC, among other backers that have supported the team throughout the past four years.
Coin98 Exchange, a cross-chain liquidity aggregation protocol, is the second product of Coin98 Labs following Coin98 Wallet, a crypto's first cross-chain compatible wallet that allows DeFi users across many blockchain networks to use DeFi services with a single wallet. The implementation plan of the Coin98 Exchange is a multi-phased approach towards instant cross-chain swap with fully automatic liquidity.
This round of funding will be allocated to scale the team with more robust development resources, accelerate the expansion of Coin98 Exchange and broaden the multi-chain and cross-chain DeFi suite. The Coin98 Labs team aims to leverage wide-ranging resources from well-respected investors in the industry, such as guidance, marketing exposure, global traction, and much more to facilitate exponential growth.
"Through its multi-chain wallet and community building efforts, Coin98 has become ingrained in the crypto culture of South East Asia—an up-and-coming hub for DeFi innovation and adoption. DeFi is both a global and local phenomenon and we're excited to support Coin98 in its journey to empower communities in the region to discover DeFi." - said Nick Chong, Investment Analyst at ParaFi Capital.
"We're excited to back Coin98 as a market leader that has shown extraordinary ability to grow in the past few months. DeFi, as an important part of Web 3 Applications, is about both global liquidity and local user demand. We believe Coin98 is the right team that knows its users to capitalize on this thesis." - said Mable Jiang, Partner at Multicoin Capital.
"The growth of DeFi in Asia has generally lagged behind the U.S. and major European markets in recent months. But, DeFi is beginning to see sizable adoption in Asia, with the public starting to open up towards DeFi in South Korea and Japan. Coin98 is at the forefront of the mainstream DeFi adoption in Southeast Asia and we believe the Coin98 team can lead the next wave of adoption, particularly in Asia." - said Joseph Young, Investment Analyst at Hashed.
"Spartan Group is excited to be one of the major investors in Coin98. With over 200K users and multi-chain support, Coin98 is becoming one of the leading DeFi platforms in Asia." - said Kelvin Koh, Partner at Spartan Group.
"We are pleased to have our valued investors accompany us. Actually, financial support is not our biggest goal in this fundraising round. Our top priority is the collaboration with like-minded DeFi builders, who will fight with us for years to come. With their support, Coin98 Exchange and upcoming products in our DeFi suite will come closer to our mission of helping everyone access DeFi services effortlessly." - said Thanh Le, Founder of Coin98 Finance.
Coin98 Exchange is expected to integrate various cross-chain solutions and grow a much more solid user base this year.
About Coin98 Labs
Coin98 Labs is a DeFi product builder focusing on creating and developing an ecosystem of DeFi protocols and applications on multiple blockchains. Our mission is to fulfill untapped demand and enhance in-demand utilities in the DeFi space, helping people to access DeFi services effortlessly. The first product of Coin98 Labs, Coin98 Wallet has quickly grown to become one of the most outstanding wallets in Southeast Asia, with more than 200,000 users, multiple blockchains support, and mobile, browser extension, and website availability.