Coin98 Super App
Coin98 On-the-spot | W29.2022
It's time for a round-up of what's new on the Coin98 universe in the past week!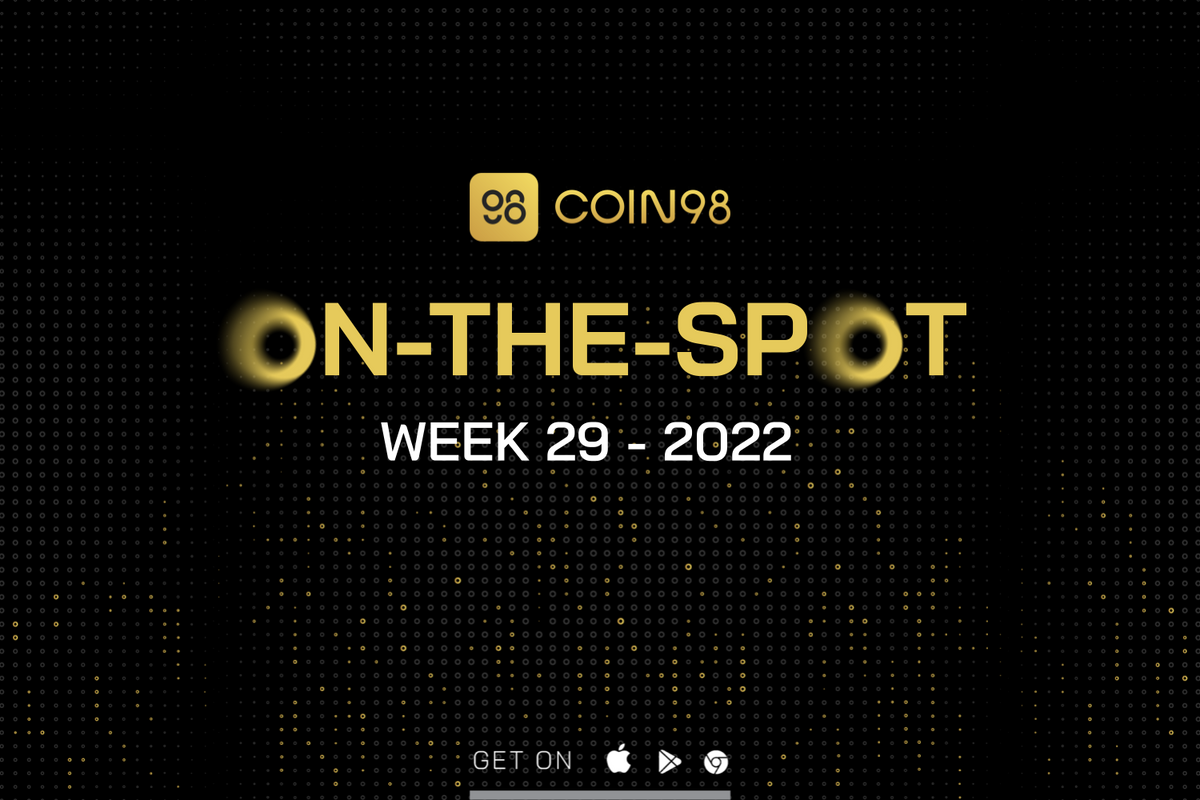 Updates
As the leading DeFi & NFT wallet, Coin98 empowers users by providing them with the whole features and solutions for their crypto-everything experience and constantly thrives on hard work at enhancement.
Both Coin98 Super App and Coin98 Extension were upgraded last week for better performance and security.
Most importantly, Coin98 Extension 6.1.13 revamped its native swap by integrating 72+ diversified liquidity sources on multi-chain - Ethereum, BNB Smart Chain, Polygon, Avalanche C-Chain, Fantom, Kucoin Community Chain, Boba Network, and HECO Chain, making it simpler for users to swap tokens and bring out the best prices.
Make sure to have your Coin98 Super App and Coin98 Extension updated for the best experience: https://coin98.com/wallet.
Events
The return of Coin98 Isolated Pool on Solend with 150,000 C98 incentives
Coin98 Isolated Pool on Solend was back and more tempting than ever with 150,000 C98 incentives. The new stablecoin basket consists of USDH, UXD, USH, PAI, and USDC.
Deposit and earn today: https://solend.fi/dashboard?pool=coin98.
More details: Coin98 Pool on Solend is back with 150,000 C98 incentives
Coin98 & dYdX: Jigsaw Puzzle Minigame - Airdrops of up to $1,000 C98
The last race of the Rewards Carnival remains inviting as Coin98 and dYdX co-hosted the Jigsaw Puzzle Minigame with $1,000 C98 airdrops up for grabs.
Are you a dynamic airdrop hunter? Seize the chance to earn today: https://c98.link/jigsaw-puzzle-coin98-dydx.
Swap2Earn: Revealed the winners of $75,000 C98 prize pool
The biggest-ever Swap2Earn event came to an end and unveiled its winners.
Have you wondered if you are on the winner list? Check it out here: Swap2Earn Winner Announcement
DApps supported
Coin98 is meant to help users explore Web3 on multichain at ease. Hence, not only does Coin98 allow universal access to dApps on 30+ blockchains so far, but we also constantly support more dApps for users' most simple and intuitive navigation.
New dApps supported on the 29th week:
PsyOptions is an options protocol built on the Solana blockchain that aims to bring a TradFi feel to DeFi by building a decentralized, permissionless, and community-owned financial services platform.
Tap Fantasy is the Metaverse version of the well-known MMORPG TAPTAP FANTASY. Developed based on H5 technology, the game allows players to freely explore in the open world and play to earn.
Joepegs is an NFT Marketplace built on the Avalanche blockchain that offers a wide range of core features, allowing users to list, trade, and mint NFTs from collectibles.
Tokens and NFTs supported
Coin98 Super App already supports NFTs on BNB Smart Chain, Solana, Polygon, Avalanche and other EVM blockchains, which allows users to transfer and store NFT right on the app and extension. Many new NFTs landed on Coin98 during the week, namely Zoonies, Capsule House, Robotos, The Potatoz, Rektguy, Chromie Squiggle by Snowfro, Nickelodeon: Rugrats & Hey Arnold!, and I Like You, You're Weird.
Coin98 aims to support not only more NFTs but also all the new and most popular tokens in the market to adapt to users' increasing demands on DeFi.
Overview of Coin98 On-the-spot W29.2022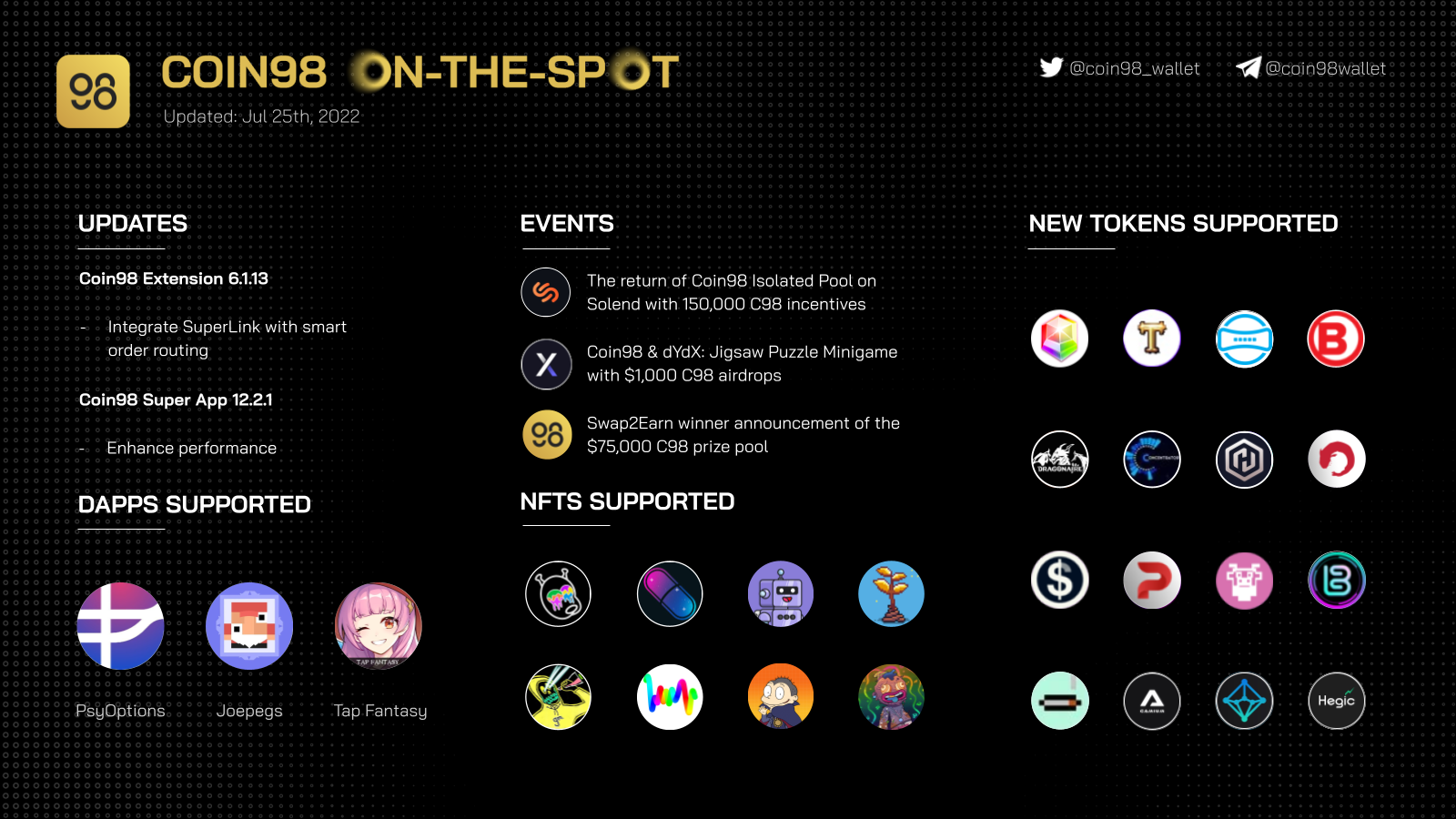 About Coin98 Super App
Coin98 is the #1 crypto super app designed to seamlessly connect a billion users to the crypto world safely and securely. We offer users across the globe a comprehensive and trusted ecosystem of essential services including but not limited to a non-custodial, multi-chain NFT & cryptocurrency wallet, built-in DEXs, Cross-chain Bridge & DApp Browser, a powerful Terminal, attractive Earn, Gift & Campaign, and Others.