Announcing Coin98 Partner Program
A long-term incentive for ecosystem builders to take part in shaping Coin98's future.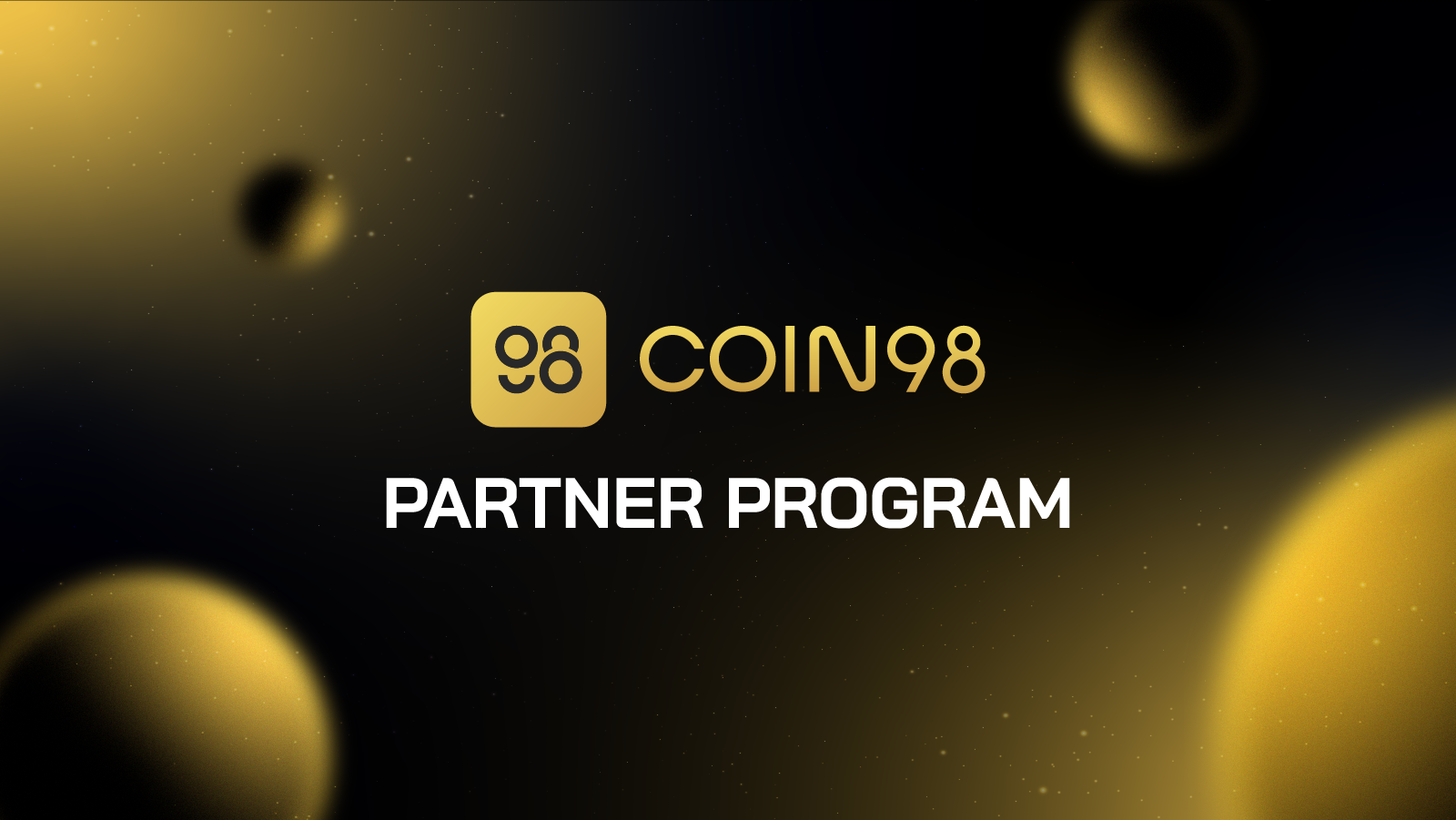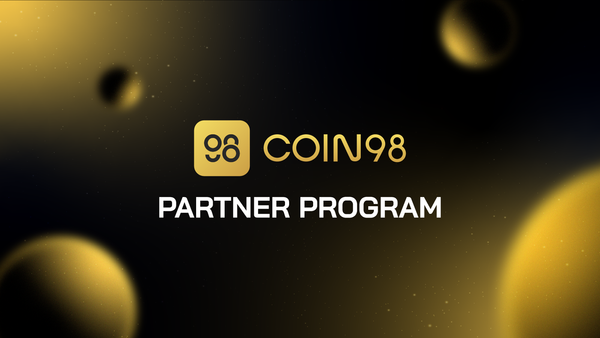 The community is the soul and heart of a blockchain project, contributing a solid foundation that enhances a project's success. Community members can be the people who create content, build public crypto-lover groups, answer questions in Telegram, Discord to help people understand crypto and DeFi. They're already doing great work and assisting the projects to attract more and more users. We believe that such people deserve to be rewarded fairly.
The most popular source of revenue for creators is affiliate marketing (or referral marketing) for centralized platforms. However, with the blast of DeFi, NFTs, Metaverse, .... creators are working harder than ever to educate users about these new things. Still, there is no way to generate revenue yet and no sustainable source of income to continue to grow.
Realizing the importance of this issue, we are launching this Partner Program to help create economic opportunities for everyone who is jointly growing not only the Coin98 Universe but also the blockchain ecosystem.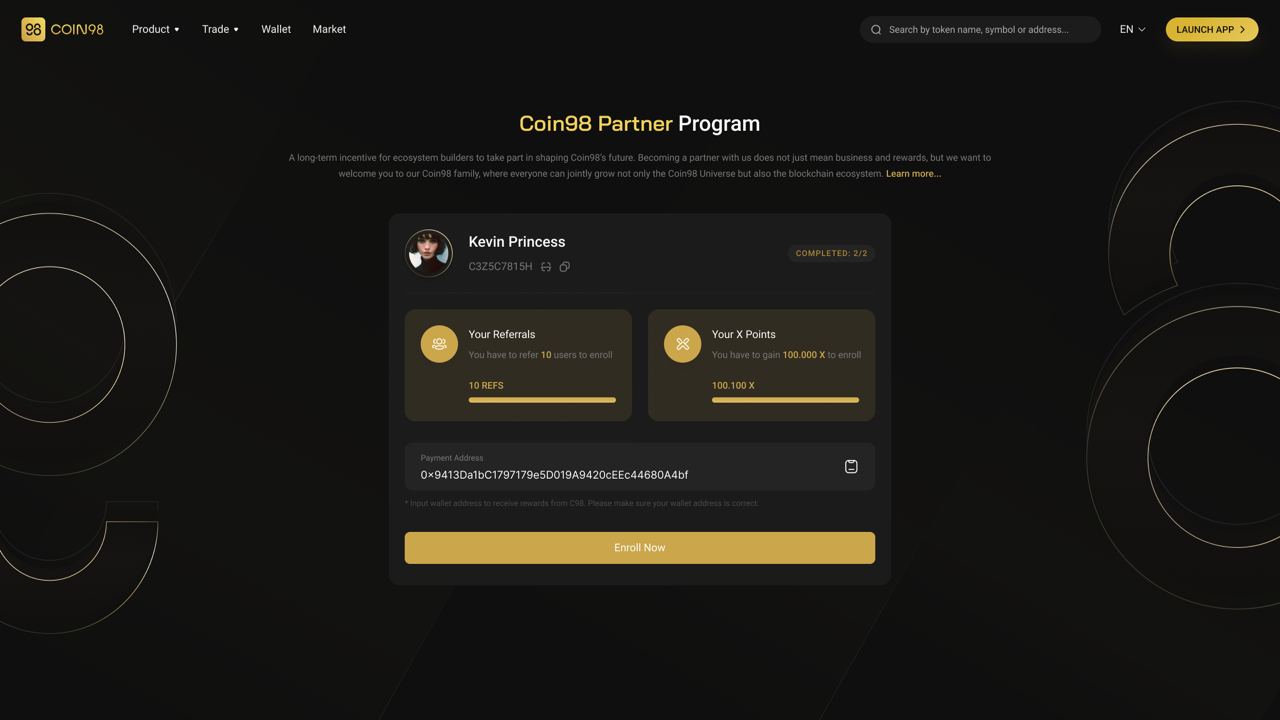 Introducing Coin98 Partner Program
Coin98 Partner Program is a long-term and always-on incentive that is open for all Coin98 Wallet users. You can create a unique referral code then you invite your friends, community members to register and swap on Coin98 Wallet.
If anyone applies your code, they will become your referee. When your referees swap on Coin98 Wallet, both of you will be received X-Points. With each specific tier of X-Point accumulation, you will get the corresponding commission in C98 Token.
Read more about X-Point HERE.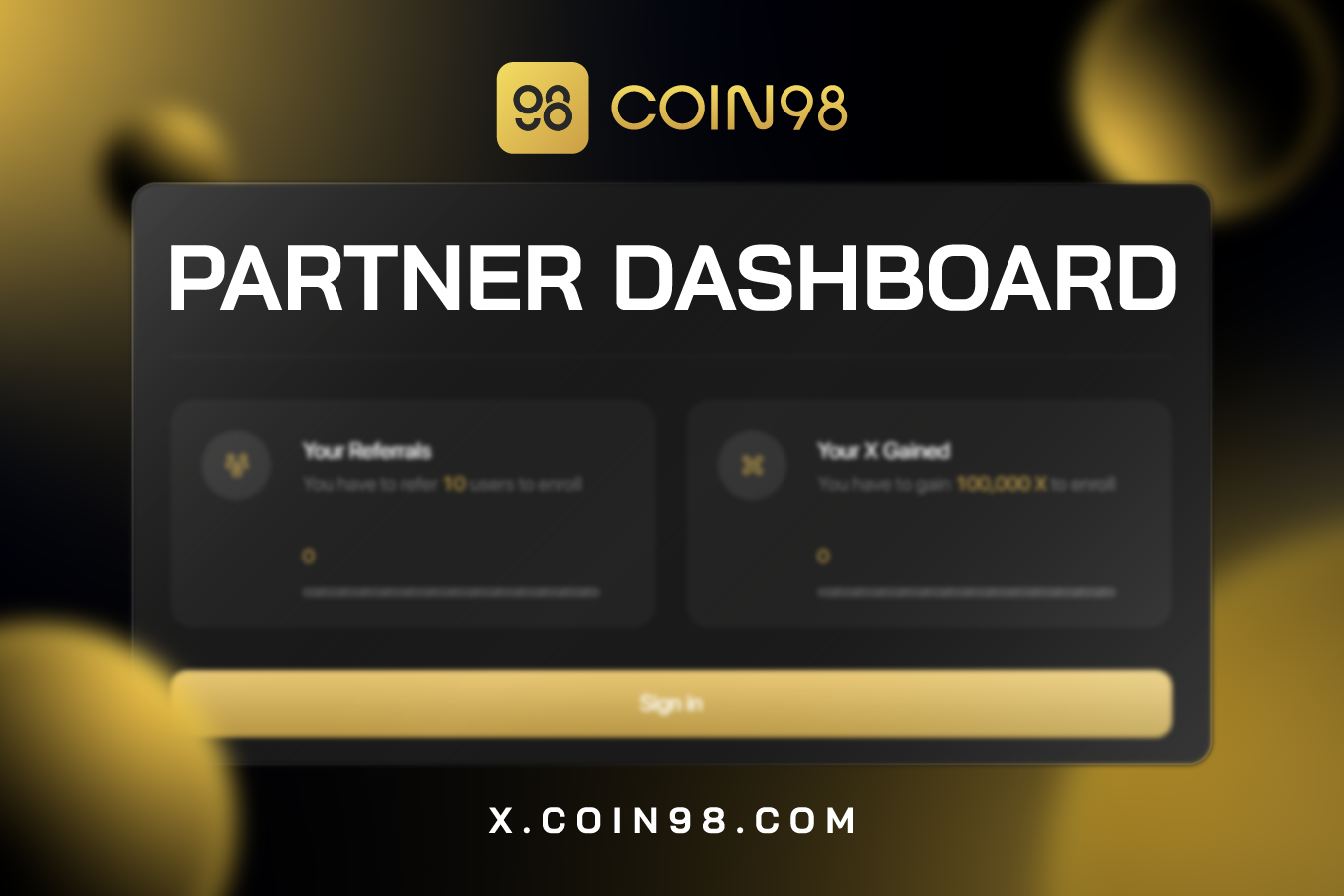 How to become a Coin98 Partner
Simply put, there are only 02 requirements - you need to have at least 100,000 X-Points and 10 referees.  
Becoming a Coin98 Partner isn't easy; the criteria are pretty demanding, but it's not impossible. You can set yourself benchmarks and gradually work towards the goal.
After you meet the requirements, please fill out this form to get on our waiting list or visit https://x.coin98.com/ to enroll.
Once reviewed successfully, you will be added to our Coin98 Partner Telegram Channel. Coin98's Partners also get access to a helpful dashboard that assists them in managing their referees conveniently. Here is a glimpse at it!
Coin98 Partner benefits
Our partners get access to many extra features and perks that regular users don't have. Starting with an extra C98 token earned based on X Points, as follows: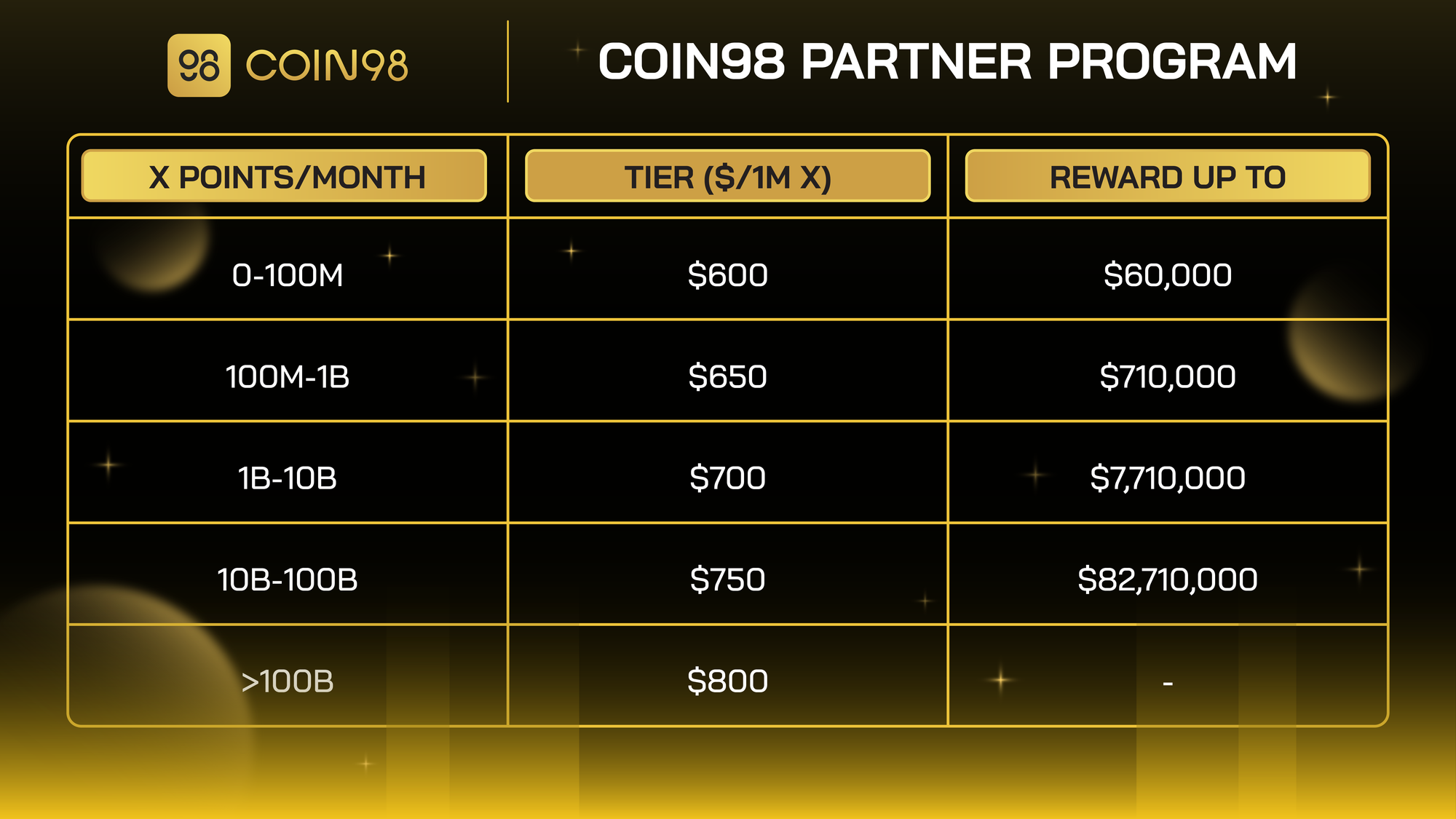 We will make payment on the 5th day of each month and in C98 tokens. There will be other perks when becoming Coin98 Partner, which will be revealed in the future so stay tuned!
Becoming a partner with us does not just mean business and rewards, but we want to welcome you to our Coin98 family, where everyone can shape the future of Coin98.
Let's BUIDL and GROW together!

Begin by applying NOW!
---
About Coin98 Wallet
Coin98 Wallet is a non-custodial & NFT wallet used to store, manage, trade, swap multi-chain, multi-source digital assets. It supports the most popular chains, including BTC, ETH, TOMO, Tron, Binance Smart Chain, Solana, Polkadot, Kusama, HECO Chain, Near, Avalanche X-Chain & C-Chain, Binance Chain, Celo, BandChain, Kava, Terra, Cosmos, ThorChain, Fantom, Polygon, Persistence, XDai, Kardiachain, Ronin, GateChain, OKExChain, Klaytn, Boba Network, Arbitrum, Optimism. Coin98 Wallet has both the Mobile App and the Extension version that act as a gateway, connecting users to the DeFi world.
Download: iOS | Android | Extension
Follow us: Twitter | Website | Docs | Blog